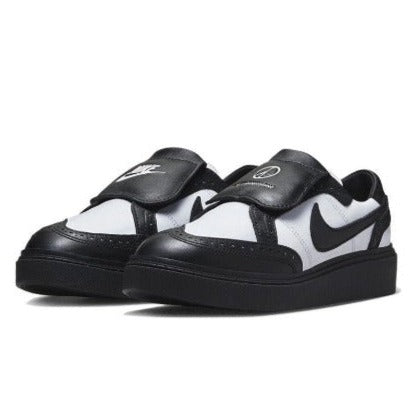 Peaceminusone x Nike Kwondo 1 4.0
Pickup available at 旺角百寶利商業中心11樓1室 / RM 1, 11/F, PAKPOLEE COMMERCIAL CENTRE, MONG KOK
Usually ready in 24 hours
Peaceminusone x Nike Kwondo 1 4.0
In Stock / 36
旺角百寶利商業中心11樓1室 / RM 1, 11/F, PAKPOLEE COMMERCIAL CENTRE, MONG KOK
Pickup available, usually ready in 24 hours
RM1101, Pakpolee Commercial Centre
1A Sai Yeung Choi Street
Mong Kok
Kowloon Hong Kong SAR
+85291457291
G-Dragon 
Peaceminusone x Nike Kwondo 1 4.0
Sku: DH2482-101

In stock: Dispatched in 1-2 days / Store Pick-up
Pre-order: Delivered in 5 to 10 days
G-Dragon PeaceMinusOne x Nike Kwondo
---
About PeaceMinusOne
PeaceMinusOne is not just a brand; it's an artistic embodiment of the acclaimed South Korean artist, G-Dragon. Delving into the very genesis of its name, "PeaceMinusOne" represents a world that's just shy of perfect, implying an ever-present element of chaos and unpredictability. In the realm of fashion, PeaceMinusOne amalgamates the contemporary with the timeless, resulting in pieces that transcend fleeting trends. With each collection, PeaceMinusOne channels G-Dragon's inimitable style, merging streetwear aesthetics with luxury craftsmanship.
---
Design of PeaceMinusOne x Nike Kwondo
The collaboration between PeaceMinusOne and Nike—dubbed the Kwondo—exudes a symphony of unparalleled creativity and functional prowess. At its core, the design is a testament to the rich heritage of Korean martial arts, specifically Taekwondo.
Visually, the sneakers proffer a juxtaposition of minimalist design elements against intricate detailing. The stark color palette evokes a sense of profound gravitas, while intricate embroideries provide an alluring contrast. The iconic swoosh of Nike has been rendered with meticulous precision, harmonizing with the distinctive PeaceMinusOne daisy insignia.
A unique facet of the Kwondo design is the incorporation of strap elements, reminiscent of traditional martial arts footwear. These straps not only reinforce the theme but also ensure an adaptive fit, making the sneakers both a style statement and a snug wear. The sole, while appearing deceptively simplistic, is the culmination of advanced shoe engineering, promising durability and comfort.
Lastly, an understated element that cannot be ignored is the subtle nod to sustainability. Ensuring that fashion does not come at the expense of our planet, eco-friendly materials have been conscientiously integrated into the design.
In conclusion, the PeaceMinusOne x Nike Kwondo is not merely a sneaker. It's a narrative, a testament to cultural confluence, and a beacon of avant-garde design. This collaboration reaffirms that fashion, when interwoven with history and innovation, can transcend boundaries and redefine paradigms.
Use the size chart below to determine your size
| | | | |
| --- | --- | --- | --- |
| US M | UK | EU | CM |
| 4 | 3.5 | 36 | 22 |
| 4.5 | 4 | 37 | 22.5 |
| 5 | 4.5 | 37.5 | 23 |
| 5.5 | 5 | 38 | 23.5 |
| 6 | 5.5 | 38.5 | 24 |
| 6.5 | 6 | 39.5 | 24.5 |
| 7 | 6.5 | 40 | 25 |
| 7.5 | 7 | 40.5 | 25.5 |
| 8 | 7.5 | 41.5 | 26 |
| 8.5 | 8 | 42 | 26.5 |
| 9 | 8.5 | 42.5 | 27 |
| 9.5 | 9 | 43 | 27.5 |
| 10 | 9.5 | 44 | 28 |
| 10.5 | 10 | 44.5 | 28.5 |
| 11 | 10.5 | 45 | 29 |
| 11.5 | 11 | 45.5 | 29.5 |
| 12 | 11.5 | 46.5 | 30 |
| 12.5 | 12 | 47 | 30.5 |
| 13 | 12.5 | 47.5 | 31 |
by WEAR43WAY
Delivery Options
- SF Express (HK/Macau/CN/TW)
- Pick up in store
- DHL, Fedex, EMS, SF Express (International order)

Payment Methods
- FPS
- Credit Card
- Apple Pay
- Shopify Pay
- Alipay
- Wechat Pay
- Union Pay